26th Sunday in Ordinary Time : Fall Coffee Socials begin this Sunday

26th Sunday in Ordinary Time

News from St. Pat's
Ministry Updates & Upcoming Events
Parish Office Hours UPDATED!
Monday 8:30 am – 12:00 pm
Tuesday 8:00 am – 8:00 pm
(Holy Grounds will be FULL service from 8-8 as well.)
Wednesday – Friday 8:30 am – 4:00 pm
Sunday 10:00 am – 1:00 pm
Parish Mass Times UPDATED!
Effective Friday, September 23rd 2022
Monday – 8 am
Tuesday – 6:30 pm
Wednesday – 8 am
Thursday – 6:30 pm
Friday – 9:00 am
Saturday – No morning Mass
Anticipated Sunday Mass: 5:30 pm
Sunday – 9 am, 11:15 am, 4:30 pm
*On Holiday Mondays we will keep the 8 am Mass time.*
---
—– Coffee Social this Sunday —–
after 9 am & 11:15 am Masses
---
Small Groups Re-Launching Fall 2022
We are re-launching small groups!
Small groups are the heart of our parish and the source of joy in the lives of so many human beings. The purpose of our small groups is to invite you into an intentional space that connects you with others in similar circumstances, both spiritually and ordinarily.
---

Knights of Columbus: Virtual Holy Hour September 26th
The KofC would like to invite you to join them in prayer.
We are continuing our spiritual reflection with a book called "The 24 Hours of the Passion of Our Lord Jesus Christ" by Luisa Piccarreta ("The Little Daughter of the Divine Will"). We will continue our reading with the"Twenty-first Hour".
Therefore, on behalf of Grand Knight Pioter Indyk and Jon Archer, Faith Director, we share this invite with you, your families and friends to join in an hour of prayer on Monday, September 26th at 6:30 pm.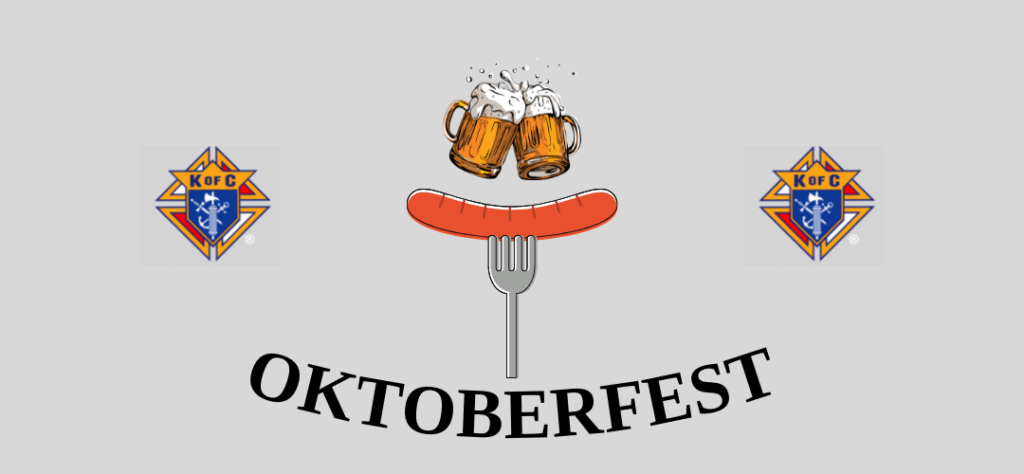 Oktoberfest 2022
Hosted by the Knights of Columbus – Thomas Haney Council 5566
Saturday, October 1st, 2022
6:00 pm – 11:30 pm
St.Patrick's Parish School Gymnasium
$45 per person
Enjoy a Bavarian Dinner, served at 7 PM (no host bar).
& Dance to music by "The Alpiners"
To purchase tickets:
Contact
Don Spindor 604-880-3581 [email protected]
or
the Parish Office 604-463-7148 [email protected]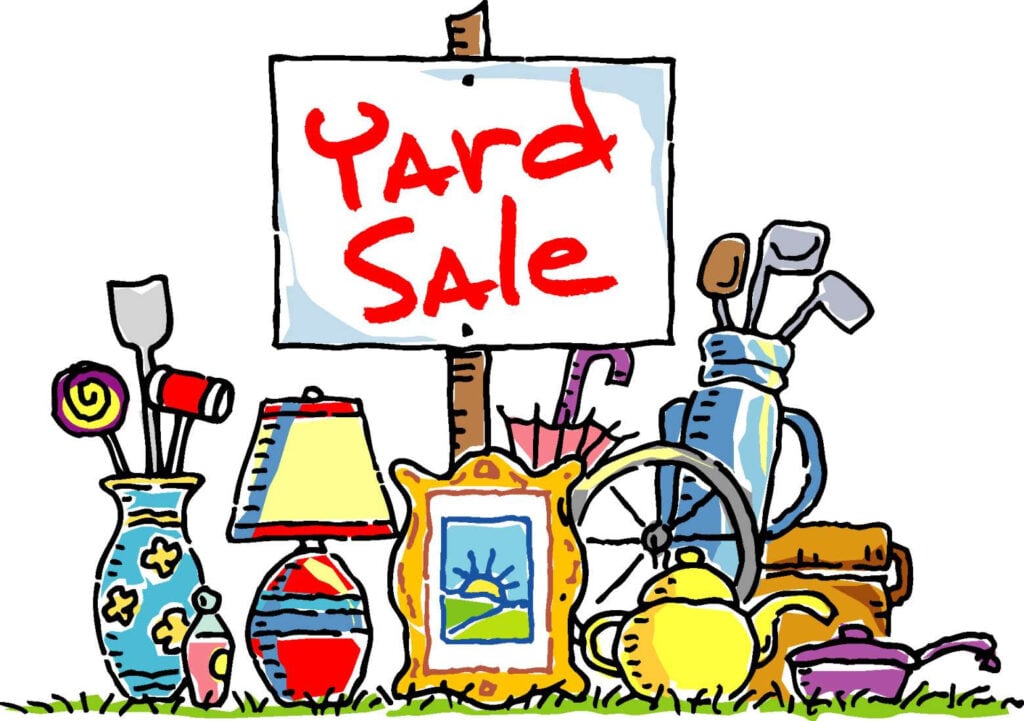 Carney Garage Sale – Donations Needed
Please support one of our Carney's vital fundraising events, while clearing clutter at home. We gratefully accept donations of gently used Household Items, Tools, Books, Toys, Clothing, Sporting Goods and Recreational Items, Entertainment, Decorations and Furniture.
Drop-off at School
1335 Dominion Ave, PoCo
Saturdays (9.30am-1.30pm)
September 10th to October 15th
Remember to spread the word to family and friends!
We need your support!
Limited FREE pick ups available
To enquire e-mail – [email protected]
Thank you, Paula!
Thank you to our parishioner and friend, Paula, who generously baked us a large batch of shortbread and oatmeal raisin cookies for Holy Grounds Tuesday this past week. Your beautiful and delicious cookies were enjoyed by many.
Celebrate the Sacraments
Join us on Friday, September 30th, 2022 at 11:30 am for the Funeral Mass of Marina Kovacs. Funeral prayers will be held on Thursday, September 29th at 7:30 pm.
On July 25th, 2022 our dear friends Joy Tancowny & Wayne Fingzies were joined together in the Sacrament of Holy Matrimony. Many blessings and congratulations to you, Wayne & Joy. We are so glad you choose to love God and each other, and share this love in service at St.Patrick's Parish.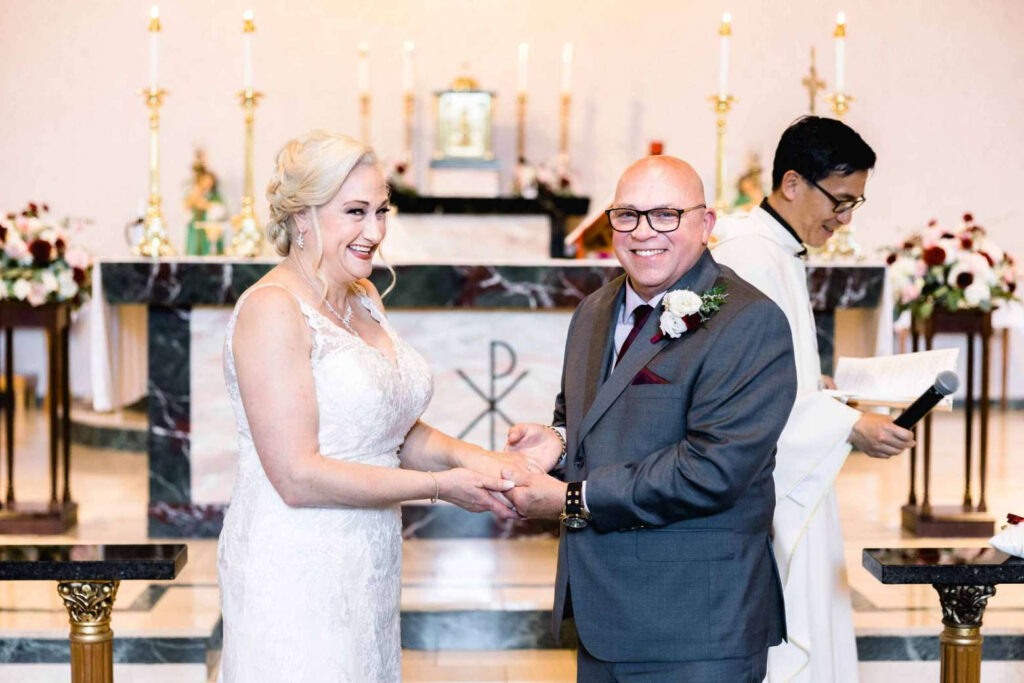 Bookstore Feature
"Be Brave in the Sacred:
How I learned to Trust God During the Most Difficult days of my life"
Be Brave in the Scared is an uplifting account of human frailty (and stubbornness) surrendered to faith.
Lenaburg tells the heart-rending story of how caring for her severely disabled daughter affected her self-image, marriage, family life, and faith.
Although she initially struggled to accept God's will and her own limitations, Lenaburg ultimately learned how to trust God. She found in that trust inexplicable joy, even during the most difficult days of her life. She writes boldly and authentically about challenges we all encounter, such as trials with control, blame, exhaustion, fear, and acceptance.
Each chapter concludes with an invitation to write and a place for readers to express their thoughts and feelings. Lenaburg's extraordinary story affirms that God's redeeming love never fails and that he is there to help us through all of the challenges we encounter.
Purchase for $20 in our parish bookstore. Come & pickup your copy today!
Weekly Mass Intentions & Feast Days
September 26 – Dylan D'Mello (INT)
Saint John de Brébeuf
September 27 – Noella D'Mello (INT)
Saint Vincent de Paul
September 28 – Selma D'Mello (INT)
Saint Wenceslaus
September 29 – Margaret Nicol (INT)
Saints Michael, Gabriel and Raphael, Archangels
September 30 –Owen Hosford (+)
Saint Jerome
October 1 – Frank Jersic (+)
Saint Thérèse of the Child Jesus