Ash Wednesday this week!
February 27, 2022
8th Sunday in Ordinary Time
Click here for our Sunday Mass LiveStream
NEWS FROM ST. PAT'S
MINISTRY UPDATES & UPCOMING EVENTS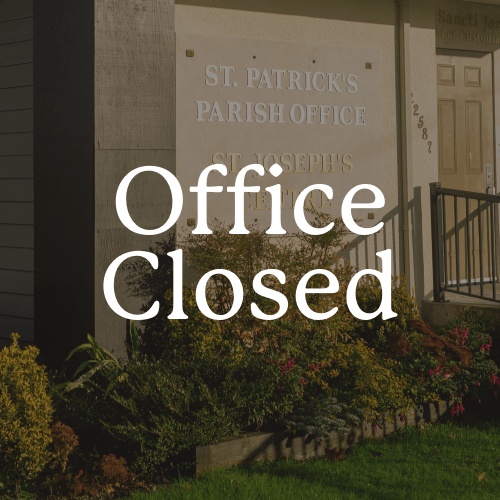 Office Closed
Tuesday, March 1st
The parish office will be closed all day Tuesday, March 1st for Faith Formation and training to listen to the Lord and prepare for the rest of the year.
This includes closing Holy Grounds on Tuesday, but we invite you to come in Wednesday for coffee this week instead!
Ash Wednesday Schedule

March 2nd, 7:45 AM & 7:00 PM

"All go to one place. All are from the dust, and to dust all return."– Ecclesiastes, 3:20.

Join us for the celebration of Mass and reflect with us on the joy of Ash Wednesday. This important holy day in the Catholic Church marks the entering into our Lenten season of fasting and prayer. In a joyful way, we are reminded that our time as pilgrims on Earth is temporary, and we are all longer and awaiting our true home.

Ash Wednesday is a day of fasting. For more on the spirituality of fasting, see the link below.
"Ash Wednesday is full of joy… The source of all sorrow is the illusion that of ourselves we are anything but dust." – Thomas Merton
Click here to hear about "Why do we fast?"
Bookstore Update!
Open during Office Hours
With Lent beginning this week, we've stocked our shelves with resources to help you draw closer to Jesus this season.
Come & see what's in stock to accompany you through the Lenten season. If you're not sure what would be best, ask staff for suggestions!
Lectio Divina Series for Lent
Thursday Mornings of Lent @ 7 AM Online

The prophet Samuel said, "Speak, Lord, your servant is listening". (1 Sam 3:10) This Lent, let's ask the Lord to speak to us, and may we grow these 40 days as listeners.
Speak, Lord is a 7 week Lenten journey through Lectio Divina, which is Latin for Divine Reading. Each Thursday morning we will start our day together with a focused reading of the upcoming Sunday Gospel (lectio), we will then meditate on this Word from God (meditatio), contemplate what His Word is speaking into our life (contemplatio), and finally pray (oratio).
Materials needed: Internet connection, Bible, pen, highlighter and notebook
Stations of the Cross
Fridays of Lent @ 7 PM in the Church

Join us weekly in the church for meditation on the Stations of the Cross, to grow in closeness to the suffering of Christ in preparation for Good Friday and Easter.
"He Himself bore our sins in His body on the Cross, so that, free from sins, we might live for righteousness; by his wounds you have been healed." 1 Peter 2:24
Weekly Mass Intentions & Feast Days

Feb 28 – Romanito & Elsie Costas (+)
March 1 – John Paul Fafard (+)
March 2 – Roger Ducharme (+)
March 3 – James Doyle (+)
March 4 – Kane Straith (+)
Saint Casimir
March 5 – Doreen Marcon (INT)
March 6 – Michael To (+)
Please prayerfully consider financially supporting your parish.
Next Special Collection: March 6th – St. Joseph's Society
Click here to Donate to the Parish!