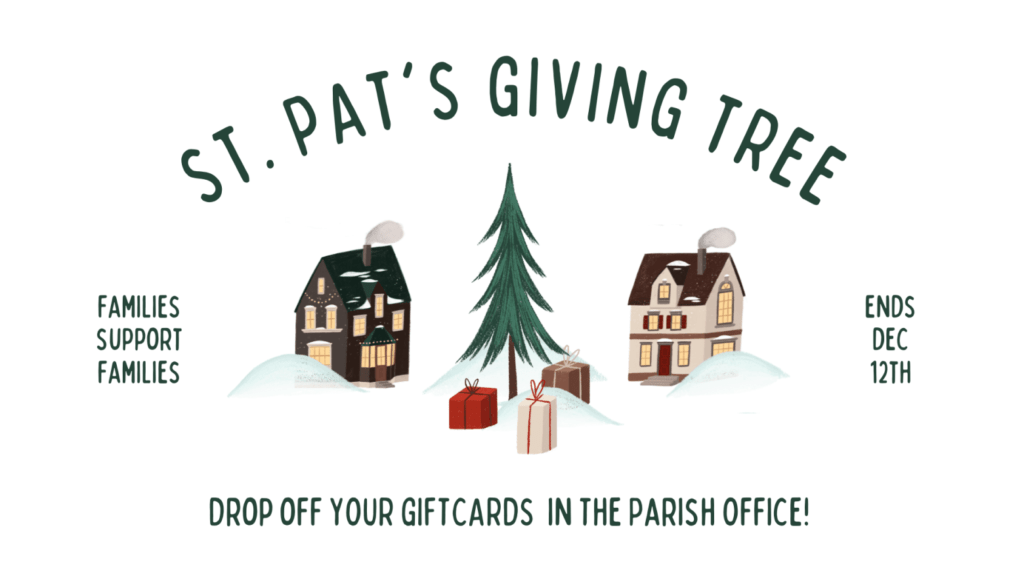 Saint Nicholas, helper of the poor and needy, pray for us.
Saint Nicholas, champion of orphans and widows, pray for us.
Saint Nicholas, protector of those who sail at sea, pray for us.
Saint Nicholas, defender of the true faith, pray for us.
If you would like to donate to the Giving Tree & help support families in need, you can drop off gift cards to the Parish Office during office hours or drop them into the mail slot to the left of the Parish Office door.
The Giving Tree Initiative will run until December 12th.
Please have all gift cards turned in by then!
This year we are asking for gift cards from grocery stores, gift stores and pharmacies for our families in need. That way they can shop for their needs!
*Please refrain from purchasing restaurant gift cards and Visa gift cards as we have had issues in the past with these cards functioning properly*
Some of the donations this year will also go to Woman Care in Maple Ridge to assist them in their mission to support Mother's in need in our community.
Is your family in need this year?
Click the button below to fill out a request form.
All information will be kept confidential.
Prayers for those in need
Although sometimes prayer feels like a last resort, it can feel like a first action too.
We are asking if families can sign up to pray with their families for other general families in need.
Please use this link to fill out your family's last name, your specific intention and what prayer you said with your family.
Once we receive this response, we will be writing these on ornaments and putting them on a tree that will be in Holy Grounds. You are more than welcome to come into Holy Grounds & write this ornament yourselves if you do not want to fill out the form.
It could be one 'Our Father' or it could be a Rosary.
Any prayer with a heart full of love is effective.
For the sake of confidentiality, please do not put names or specifics for the sake of the privacy of our families.
A Huge Thank-You to Lynn Malek for helping coordinate this initiative. Click to read her testimony!