Final Preparations for Christ's Birth
December 23rd 2021
Merry Christmas!
Christmas Mass times

Christmas Vigil Mass, December 24th // 6:00 pm
Christmas Vigil Mass, December 24th // 8:00 pm
1/2 hr of Carols begins at 11:30 pm on December 24th.
Christmas Vigil Mass // Midnight
Christmas Day Mass, December 25th // 9:00 am
Christmas Day Mass, December 25th // 11:15 am
NEW!! Christmas Day Mass, December 25th // 2:00 pm
Christmas Mass – In person
Please come 15 – 20 minutes before the Mass you received a Confirmation email for.
As a result of the overwhelming amount of people desiring to come to Mass this Christmas, all of the previously advertised Mass times are now at our full, limited capacity. Fr. Matthew has decided to add another Mass at 2:00 PM on Christmas Day.

The 2:00 PM Mass is intended for those on the wait list and for those who have not yet registered. We hope you will accept our invitation.
Click here to register for 2:00 PM Christmas Day Mass
Christmas Mass – Online
Christmas Mass will be LiveStreamed for those who are unable to join us in person, but would like to worship with us.
We are LiveStreaming the 6pm, 8pm and Midnight Christmas Vigil Masses as well as the Christmas Day Masses at 9am and 11:15am.
Click here to watch the LiveStream
News from St. Pat's – Ministry Updates & Upcoming Events
Please use the following link to see the full Schedule of Masses at St.Patrick's from Dec 24th – Jan 2nd.
*** NO Saturday Anticipated Mass, December 25th and January 1st.***
Click here for the Mass Schedule
If you are planning on visiting St.Patrick's Parish Office during this holiday season, please see below for our Holiday office hours.
Christmas Eve (Friday) 8 am – 12(noon)
Monday, Dec 27 CLOSED
Tuesday, Dec 28 CLOSED
Wednesday, Dec 29 8 am – 4 pm
Thursday, Dec 30 8 am – 4 pm
New Year's Eve 8 am – 12(noon)
Monday, Jan 3 CLOSED
ALPHA begins January 20th 2022 – 8:30 AM or 6:30 PM

It may be you or it may be someone in your life who is wrestling with life's biggest questions like, "Is there more to life than this?" "Why do bad things happen?" "Could God be real?"
The good news is we have a gathering place to share your thoughts, feelings and questions free from judgement, and form friendships that will change your life (and have free dinner if you're in person!).

Save the Date and keep your eye out for more details coming soon!

Who will you invite?
Invited to Rest & Reflect

We invite you to press pause on the hustle and bustle of the season and take a moment to rest and reflect. Take a look back at the Advent Men's & Women's Night in these final hours before Christ's coming.
How have you prepared the way?
Rorate Mass – a beautiful silence.

For 4 cold, dark Monday mornings both young and old of St.Patrick's parish filled the church beyond our expectations. Every Monday we witnessed the blessing of our community, in the 150 people who made the great sacrifice of sleep, to wake up and celebrate the Mass with us at 7AM. We are so grateful that we were able to celebrate these Masses at Dawn with you all in-person and to share a meal with you afterwards.

If you didn't get the chance to experience a Rorate Mass this Advent season, we hope you will join us next year!

Thank you to all those who helped to make it all happen!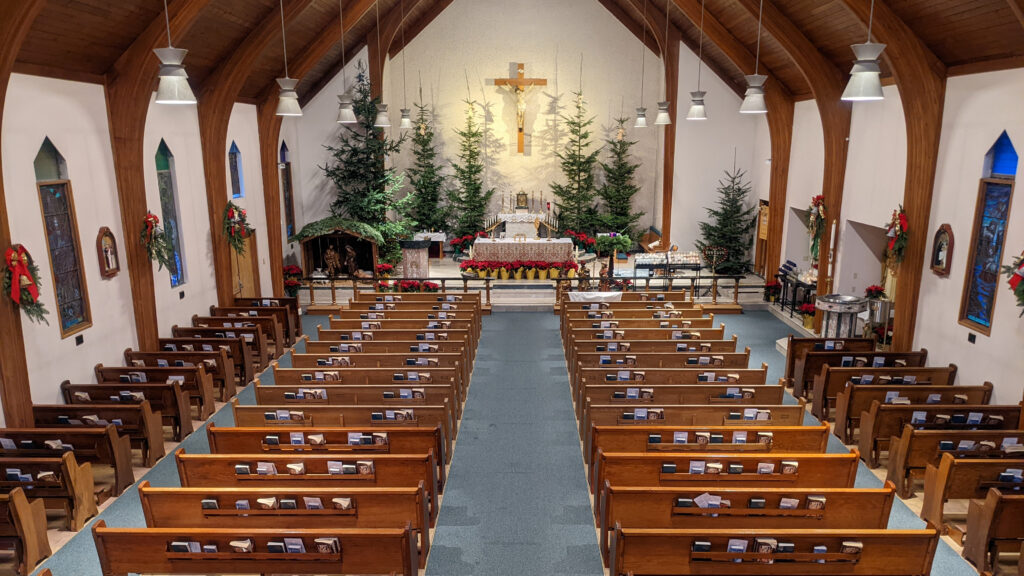 THANK YOU to our decorating team.

To the Men – who braved the pouring rain and freezing cold for hours to cut down and setup our Christmas Trees.
To the Families & Individuals who spent most of Monday cleaning the church, putting up the lights, making the boughs, hanging the garlands, and all the little bits and bobs that make the Church look so beautiful at Christmas. You did an amazing job!