Meet Jesus in a Deeper Way this Lent
March 6, 2022
1ST SUNDAY OF LENT
Click here for our Sunday Mass LiveStream
NEWS FROM ST. PAT'S
MINISTRY UPDATES & UPCOMING EVENTS
New Arrival!
Pickup your copy in the parish bookstore.

Take a healing journey with Sr. Miriam James Heidland, SOLT, as she helps you turn away from what wounds you and toward God who heals you and makes you whole. 
Each week, Sr. Miriam will lead you to meet the tenderness of God's mercy, the power of his love, and the restoration of your heart and life as you practice prayer, fasting, almsgiving, and sacrifice.
Weekly companion videos are available on formed.org and on youtube!
Check out the videos – 'Restore': Lent with Sr.Miriam
Stations of the Cross
Fridays of Lent @ 7 PM in the Church

Join us weekly in the church for meditation on the Stations of the Cross, to grow in closeness to the suffering of Christ in preparation for Good Friday and Easter. 
"He Himself bore our sins in His body on the Cross, so that, free from sins, we might live for righteousness; by his wounds you have been healed." 1 Peter 2:24
Lectio Divina Series for Lent
Thursday Mornings of Lent @ 7 AM Online

The prophet Samuel said, "Speak, Lord, your servant is listening". (1 Sam 3:10) This Lent, let's ask the Lord to speak to us, and may we grow these 40 days as listeners
.
Speak, Lord is a 7 week Lenten journey through Lectio Divina, which is Latin for Divine Reading. Each Thursday morning we will start our day together with a focused reading of the upcoming Sunday Gospel (lectio), we will then meditate on this Word from God (meditatio), contemplate what His Word is speaking into our life (contemplatio), and finally pray (oratio).

Materials needed: Internet connection, Bible, pen, highlighter and notebook.
Holy Grounds Update
We are Open!

Come in and check out Holy Grounds Coffee House this Tuesday, from 8am til closing. Bring a friend or a good book and enjoy a cup of coffee or tea with us.
Celebrating Together
Recent Sacraments & Funerals celebrated in our community
With great joy we announce the Baptism's of Ayla Dionisio & Christel Torralba. 
Please pray for these young sister's in Christ, that they may experience the joy and blessing of the inheritance they are given through their Baptisms; a loving relationship with Jesus himself.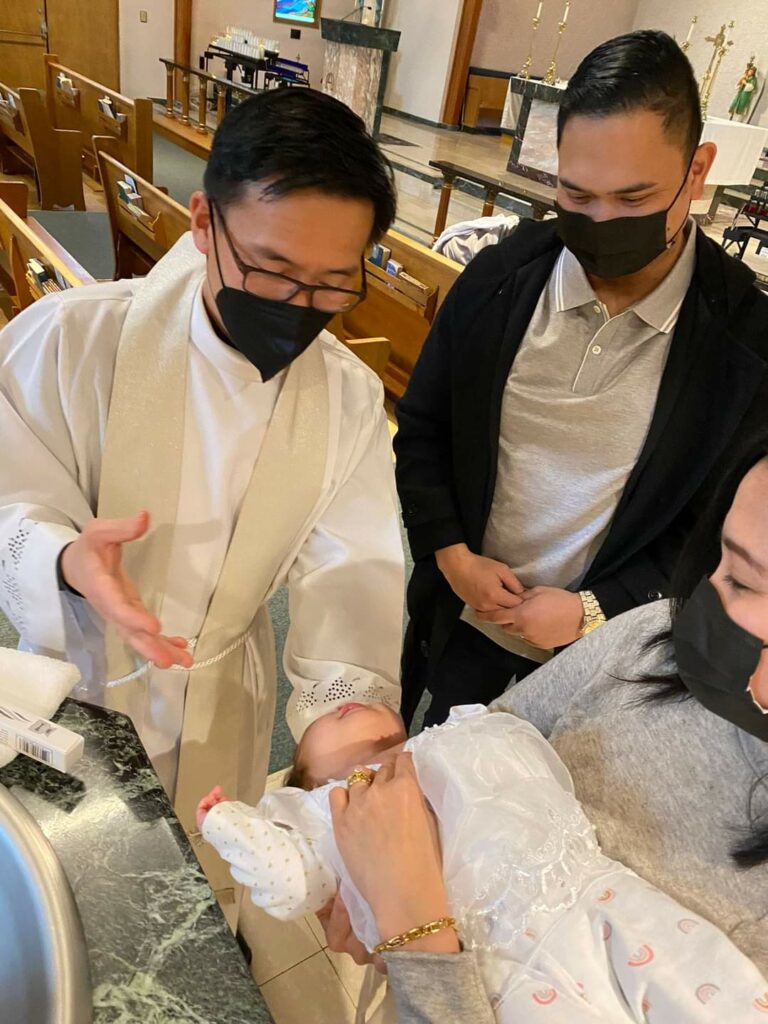 "The most beautiful things in the world cannot be seen or touched, they are felt with the heart."
Weekly Mass Intentions & Feast Days

March 7 – 6 Crew Helicopter Accident (+)
March 8 – Marek Opolski (INT)
March 9 – Alan Gray (+)
March 10 – James Doyle (+)
March 11 – Nina Queman (+)
March 12 – Roger Chapdelaine (+)
March 13 – Michael To (+)
Please prayerfully consider financially supporting your parish.
Next Special Collection: March 6th – St. Joseph's Society
Click here to Donate to the Parish!