Bulletin: Easter Sunday – Welcoming our Lord with Joy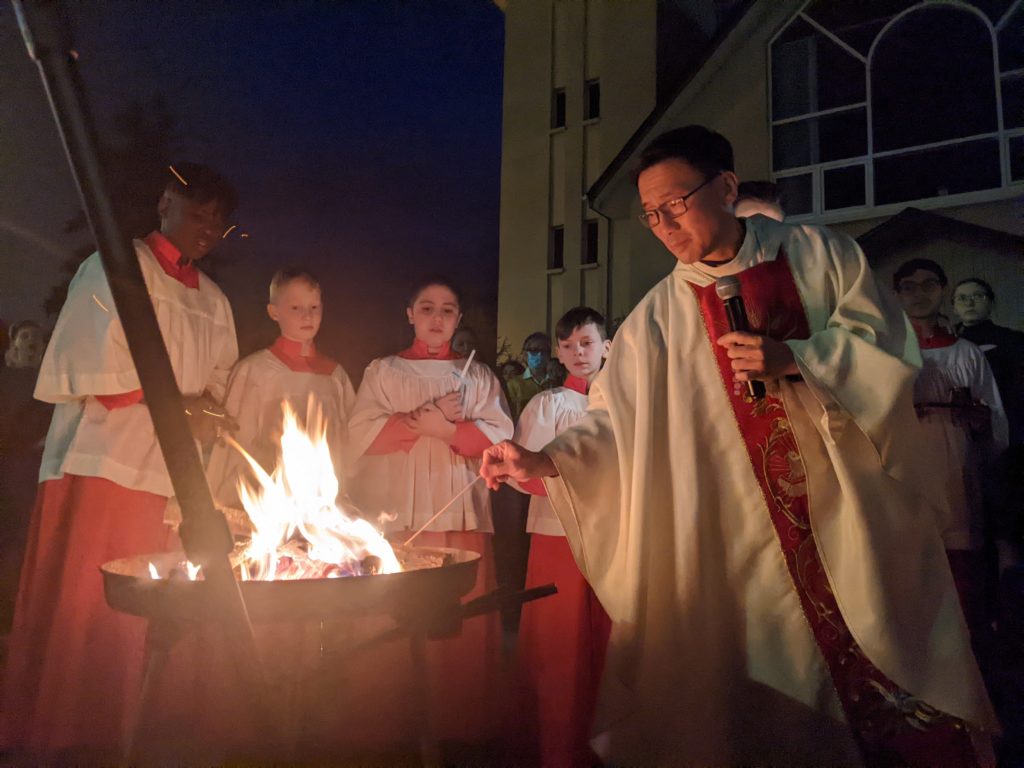 Easter Sunday

Easter Week Schedule
Parish Office & Holy Grounds Hours
Holy Saturday, Apr 8 – CLOSED
Easter Sunday, Apr 9 – 10am – 1pm
Easter Monday, Apr 10 – CLOSED
Tuesday, April 11 – Return to regular schedule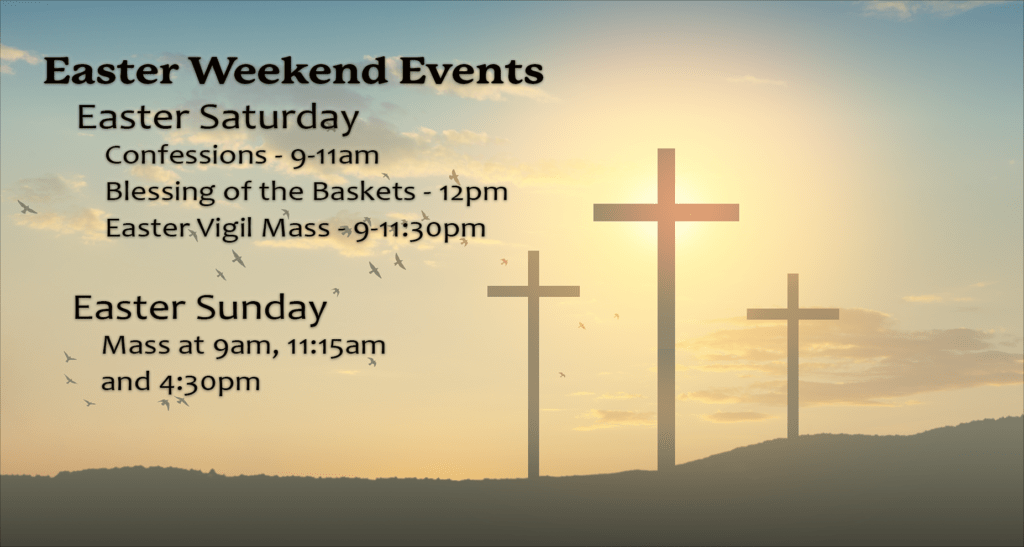 Easter Week Mass Intentions & Feast Days
Monday, April 10th – Paul D'Mello (+)
Tuesday, April 11th – Isabore Athaide (+)
Wednesday, April 12th – Giovanni Guglielmi (+)
Thursday, April 13th –  Leo & Lolita (+)
Friday, April 14th – Mariano Magtolis Sr. (+)
Saturday, April 15th – Elizabeth Rogers (+)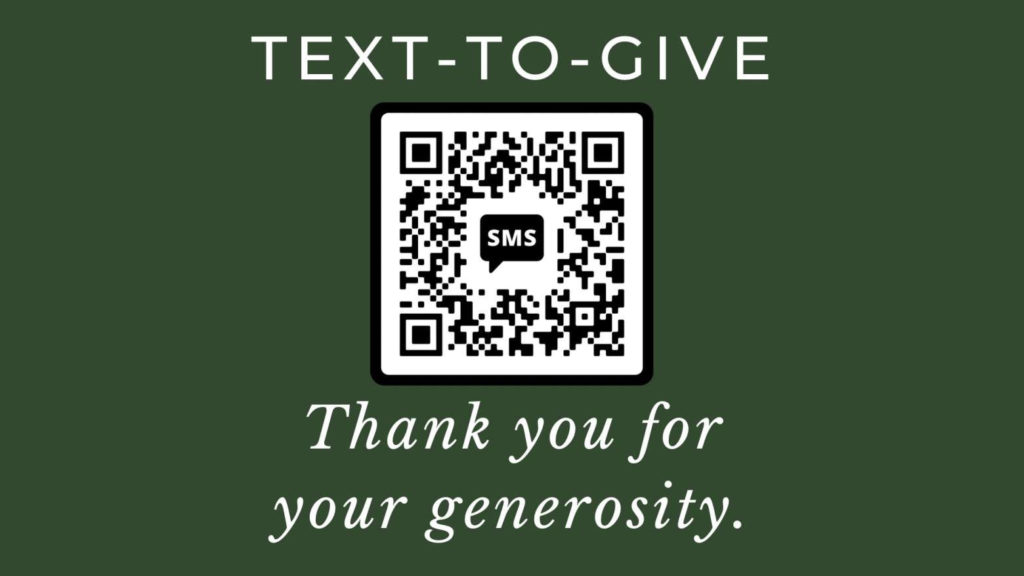 Papal Collection for the Holy Land on Good Friday
News from St. Pat's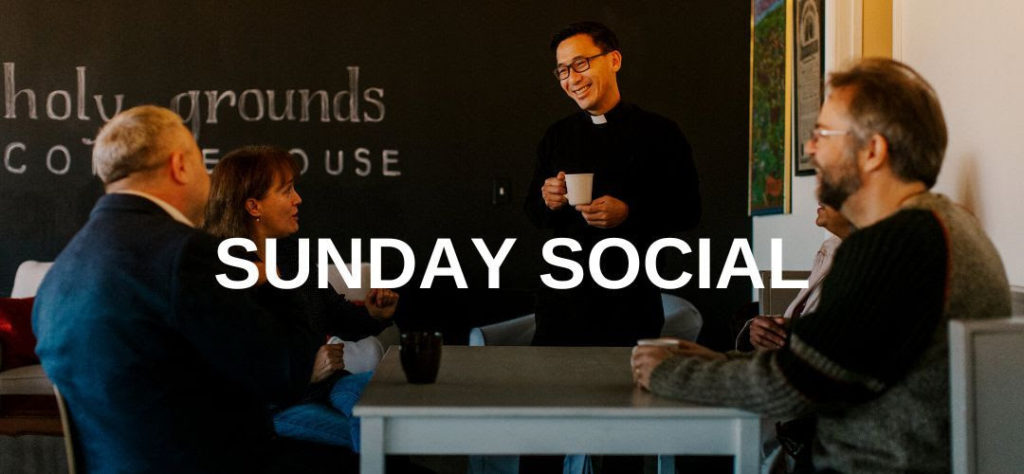 Join us after 9AM and 11:15AM Mass this Sunday morning in Holy Grounds for coffee and treats.
Last Call for Tickets! Don't miss this one!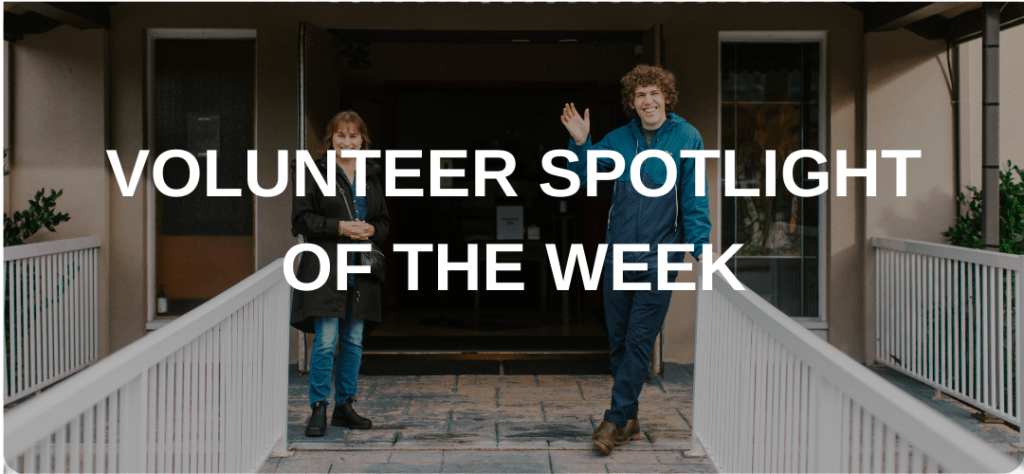 Thank you!
To the Knight's donation of a new spring loaded basketball hoop and material for backboard installation in St. Patrick's School Gym.  
To Don and Adam Spindor for their work installing the new hoop!!
To the Catholic Women's League (CWL) for their generous donation towards new Hymnals!
Integritas: A Dialogue on Faith and Mental Health
Join us as we continue the dialogue on mental health through a Catholic lens. The last session is about "Self-Care", and will take place on Wednesday, April 26, from 7:30 p.m. to 8:30 p.m.
Please consider donating your returnable beverage containers on Saturday April 15th between 10am and 2pm at our St Patrick's Parish parking lot. For more details see: https://www.acrss.org/ (scroll down). If you have questions, please contact [email protected]
Fifth Ordinandi Dinner
The Vocations and Seminarians Office of the Archdiocese of Vancouver cordially invites you to the Fifth Ordinandi Dinner featuring Deacon Patrick Le and Deacon Medard Kamanzi. Join Archbishop Miller and members of the Catholic faithful on Wednesday, June 21 at the Italian Cultural Centre in Vancouver. Doors open at 5:00 p.m. Dinner begins promptly at 6:00 p.m. Seating is limited. Tickets are available for purchase at https://secure.rcav.org/ordinandi-dinner-2023/.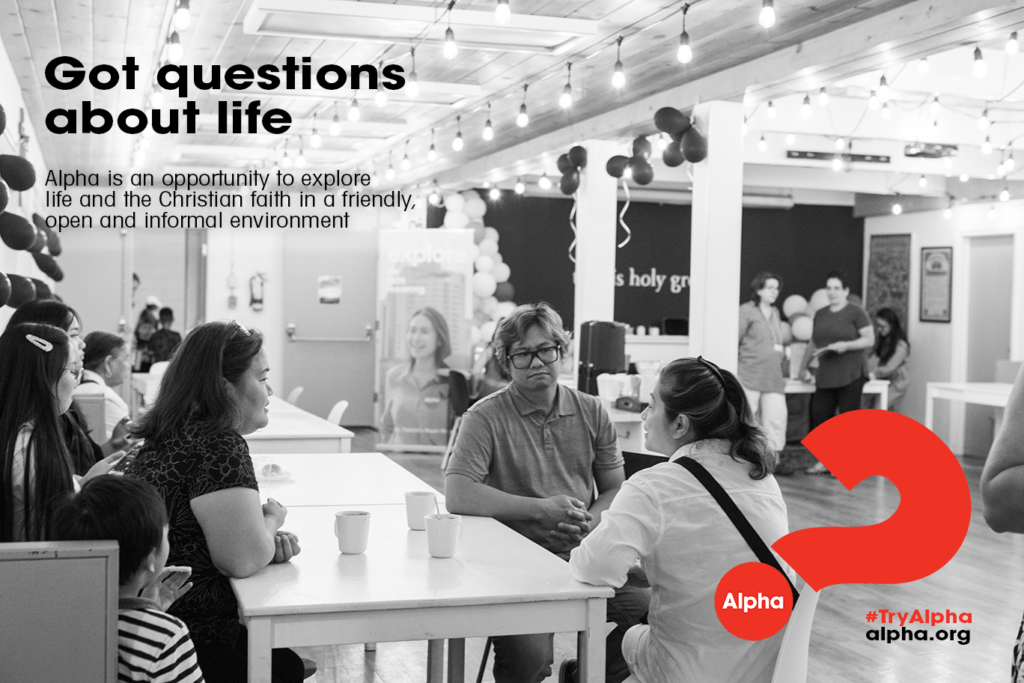 We are thrilled to invite you to participate in our Spring Alpha 2023!
IMPORTANT! ALPHA START RESCHEDULED!
Alpha Spring 2023 starting date has been changed from April 13th to April 27th in order to provide an exceptional experience and accommodate more participants. We apologize for any inconvenience this may cause and appreciate your understanding as we strive to make Alpha 2023 a great success. We look forward to welcoming you on April 27th!
Alpha begins April 27th
We are offering both a morning and evening Alpha, depending on your schedule.
Morning Alpha @ 9:00 am-10:30 am
Evening Alpha @ 6:30 pm – 8:00pm
Are you looking for an opportunity to get involved more in our community? Join the Alpha Team!
Formation for Lay Ministry Scholarship
The Formation for Lay Ministry Scholarship supports the ongoing formation of people serving in a variety of parish and non-parish ministries within the Archdiocese of Vancouver (RCAV). Examples of ministry involvement could include RCIA, PREP, Youth Ministry, marriage preparation, catechesis, faith sharing, prison ministry, social justice ministry, etc. The scholarship covers the tuition for three foundational graduate level courses amounting up to $3,300 within two years upon receipt of the scholarship. Application deadline is on Sunday, April 30. Learn more and apply at stmarkscollege.ca
Couples Retreat by Worldwide Marriage Encounter
If you desire to restore communication and rekindle romance, this weekend is for you! Come learn how to become closer as a couple through a communication strategy that will deepen and strengthen your love, leading to a richer, more intimate and joyful life together! The presenting team consists of three couples and a priest who will help you to:
Learn tools to make your relationship a priority
Communicate from the heart and grow in intimacy
Renew your commitment to each other and value the precious gift of your marriage
This weekend is meant to be experienced in its entirety as each presentation builds on the previous ones. Attending each session is expected. Mass will be celebrated on Sunday as part of the retreat. This couples retreat is in Kamloops, B.C. begins on Friday, April 14 at 7:00 p.m. and ends on Sunday, April 16 at 4:00 p.m. Registration deadline: Tuesday, March 28.
https://beholdvancouver.org/events/virtual-worldwide-marriage-encounter-8